Does Stone Have a Case?
In an interesting development, Stone Brewing Company has decided to sue MillerCoors over its use of the word "Stone" in recent Keystone branding. The news was announced with the typical bombast for which Stone and founder Greg Koch are famous--but that doesn't mean the lawsuit isn't serious.
---
When Greg Koch posted a five-minute video on YouTube announcing that Stone was suing MillerCoors, it launched a million discussions. Because of Stone's hyperbolic approach to communications, one of the predominant themes of the debates was how seriously to take this. Was Stone using the federal courts in an ingenious marketing scheme, or was this actually a serious complaint? And if it was serious, how likely is Stone to prevail? Unfortunately, very few people have the knowledge or expertise to answer these questions.
One person who does is Brendan Palfreyman, a trademark attorney specializing in beer and brewing trademarks. He's based in New York, but offers a service called Trademark Your Beer that addresses trademarks in the US and abroad. Yesterday he went through the legal documents filed by Stone and offered the only serious (and informed) analysis I've seen on the issue. What follows is an abridged version of his tweets from that thread, followed by some more background he gave me on the legal battle ahead.
 
The Nature of the Case
Brendan didn't just opine on the generics of trademark disputes--he actually read Stone's suit. He noted that it read like a Stone document.
Right off the bat, in Paragraph 2 of the complaint, Stone Brewing notes that, like all all Gargoyles, it is "slow to anger," and compares Keystone Light to "watered-down mineral spirits." Stone then accuses Molson Coors of having disavowed its "Colorado mountain heritage" and states a desire to "usher Keystone back to the Rockies." Stone notes that Keystone was named for a ski resort in Colorado, and accuses Molson Coors of having abandoned its Colorado roots. "Those ties apparently no longer bind so tight."
Stone Brewing not pulling punches, references MillerCoor's acquisition of Saint Archer Brewing (and thus all AB Inbev/MC acquisitions) and states that they drop prices and ramp up production, presumably to stifle craft competition.
Pointed throat-clearing concluded, Stone then plunged into the specifics of their case. Brendan continued:
Per Stone Brewing, MillerCoors' social media posts since the refresh of the Keystone branding have placed Keystone cans strategically so that they only say STONE. At least partially true in the image on the right below. [All supporting pictures below; --JA] Some examples from the complaint:
MillerCoors using the word STONE by itself, including the manner in which 30 packs create a "wall of STONE."
And here, Stone Brewing gives examples from Keystone Light Facebook and Instagram feeds where they use just "'Stone."
This particular ad campaign - HUNT THE STONE - is not a good look for MC. Uses the word STONE by itself, which is identical to Stone Brewing's trademark registration
Stone then argues that MillerCoors attempted to register the trademark STONES in 2007 but that the application was denied based on Stone Brewing's registration. The picture on the right is from that denial, noting the similarity between STONE and STONES.
In concluding, Stone Brewing asserts various causes of action for infringement, dilution, and unfair competition, and seeks to recover the profit made by Molson Coors in selling the allegedly infringing Keystone beer, 3X actual damages, and its attorneys' fees.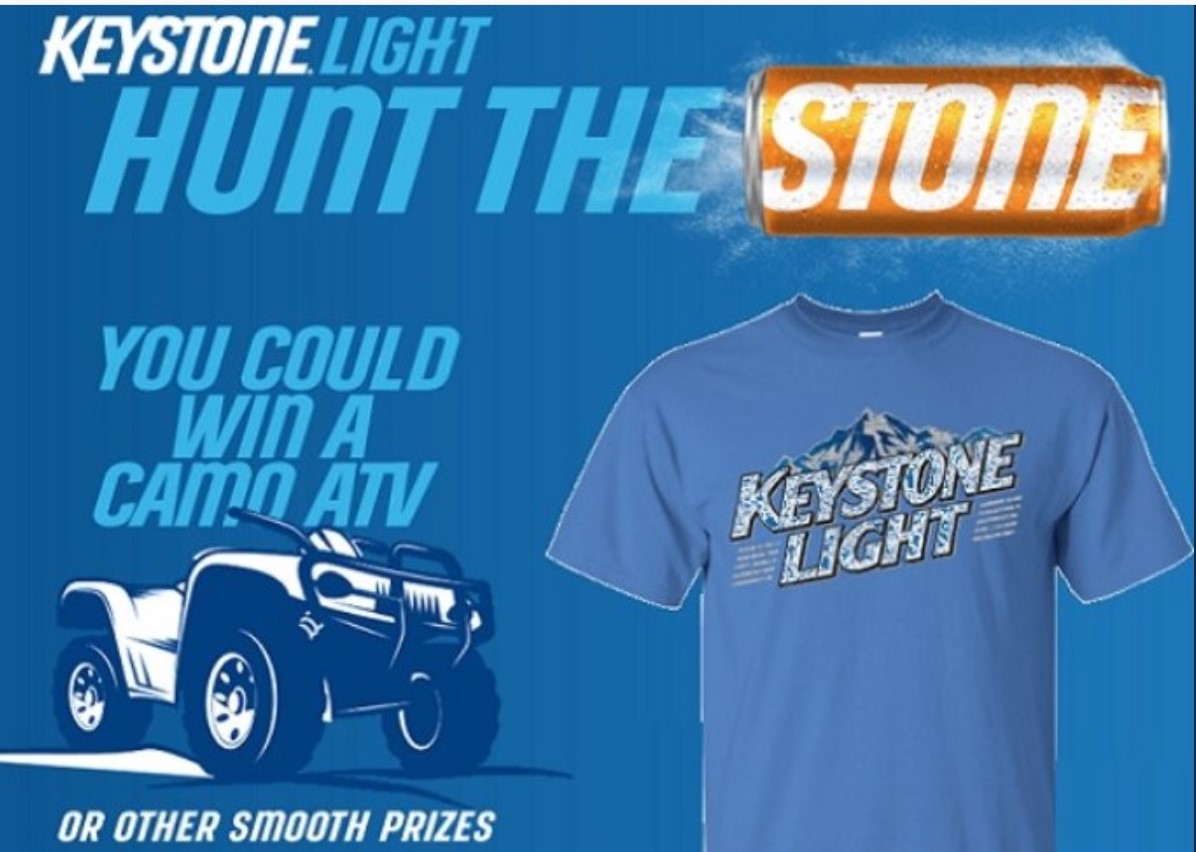 Brendan was too prudent to hazard a guess about which way a court might land on the case, but it's clear from the passages and photos he thinks this is a serious complaint. I'm just a layman, but reading through his thread convinced me Stone has a right to be concerned here. MillerCoors has made a push with the brand, one that has been paying serious dividends in an otherwise bleak mass market landscape. The multinational giant is very much aware of Stone's market currency and was denied an earlier trademark of the very word ("stones") that triggered this lawsuit. Think what you will about the way Stone announced this lawsuit--it concerns what looks like legitimate trademark infringement.
As for what comes next, Palfreyman laid it out for me in a message:
This dispute is an actual suit in federal court, as compared to trademark opposition and cancellation petitions filed with the Trademark Trial and Appeal Board at the USPTO -- one of the primary differences being that the USPTO only decides whether an applied-for mark will register or an existing registration will be cancelled. The USPTO does not decide infringement, damages, or injunctive relief. The federal courts, on the other hand, can do all of those things.
MillerCoors will be served with a copy of the complaint, after which time the clock starts running for them to serve an "answer" to the complaint. An answer goes through the complaint paragraph by paragraph and admits, denies, or denies knowledge and information sufficient to do either. The answer will also be interesting here because it should tell us what affirmative defenses MC will plead, and there is also the (probably unlikely) potential for a counterclaim or counterclaims by MC back against Stone.
A couple of final notes going out. Stone is unlikely to recoup their legal fees on this (per federal code, Brendan says only in "exceptional" circumstances does that happen). Finally, MillerCoors owns the Trademark on Keystone, which was first registered in 1991, years before Stone Brewing was founded.
We'll watch this as it develops. If MillerCoors has to answer each of Stone's charges, their document should at the very least be entertaining. ("To the charge that your company produces "watered down mineral spirits," how do you answer?") I will stay touch with Brendan and give you the updates as events unfold.