Seattle Breweries Considered
I submit my second Seattle dispatch from the home office in Portland, such was the lightning speed of our trip. (We missed key breweries I wanted to see like Machine House, failed to spend as much time as I would have liked with some folks, and missed others altogether. Regrets and apologies all around.) (Sorry Lester!) Nevertheless, Patrick and I managed to see eight breweries in all, which ain't bad for guys who don't feel a visit is complete unless we've warmed a barstool for a three-hour session and really gotten to know the beer.
Yesterday was keyed by our tour of Reuben's and podcast interview with Adam and Grace, the owners (and parents of the brewery namesake). We'll have more on the podcast from that visit, and we also managed to record three shorter pieces at our visits to other breweries. Pictures and brief comments below, but first, I have to at least comment on that train wreck that killed three on Monday, and which became an unexpected chapter in our own story.
It had absolutely no effect on our trip, and yet our travel intersected so closely with it we couldn't help but feel a spooky sense of connection. We traveled to Seattle Sunday afternoon, taking one of the very last trains on the old (safe) route. It may even have been the last train out. For those unfamiliar with the Cascades line, that train was famous for its picturesque views along the way, especially those along Puget Sound. The new line was supposed to gain ten minutes, but lose the view. Many riders took part of Sunday to ride the last trains and catch the view. Even without the tragedy, it was an historic day of travel. Of course, the first train out the next morning was the one that derailed. We spent Monday morning wondering how many casualties were on that train, considering how we'd get home, and, for the first time, whether it was going to be safe. It was a close enough call that we had to let parents and friends know we were safe. In the end, by the time we came back yesterday evening, Amtrak had resumed using the old line, and our travel was unaffected. All well for us, but I strange pall settled over our meanderings that gave our fun little jaunt a shot of tragedy.
And on that note...
Old Stove
At tourist ground-zero is a curious little brewery called Old Stove in the Pike market district. The owner, who hails from Michigan, loves Kalamazoo stoves like the one you find in the corner of the pub. In that pub you also find two fermenters, a testament to just how little space they have in the brewery a floor below. With a location like Old Stove's, the brewery could have just mailed it in on the beer, but they didn't. It's not the best brewery in Seattle, but they're also not just making rando porters and ambers for the shopping masses. (Okay, they make one amber.) Their hoppy ales were a bit husky and astringent, but otherwise solid. The pilsner--because every single Seattle brewery we visited had to have a pilsner--was so delicate it bordered on helles territory, but it was very well made. Overall, well-made beers. One final touch I really loved: there were a couple of large-screen TVs, but instead of broadcasting whatever sport might have been on (at just before noon on a Tuesday, I shudder to think), they had a loop of fifties-era beer ads.
Reuben's Brews
We sat down for a great interview with Reuben's founders Adam and Grace Robbings, and I don't want to step on that. So just a couple things you won't hear on the podcast. 1) Yesterday was sweater day at Reuben's, a fact I'm sure Grace and Adam will regret as these photos live on into July on the internet. 2) The current brewery/taproom (their second location) is divided into two buildings. It looks like the brewery is self-contained, and fermenters and tanks are visible from the taproom. But there's a secondary fermentation room, and it's located in a building about sixty yards from the brewhouse. How, you might wonder, do brewers get the wort to the fermenters? With little 10 hL German tanks that look like old-school grundies, except that they have forklift slots for transport. They have to be that size to fit on the forklift, and, no, the brewery is not a 10-hec kit; it's 22 barrels. So yes, it requires multiple trips. This is one of the challenges of brewing in a dense, expensive city like Seattle. I took a photo of both sweaters and that little tank below.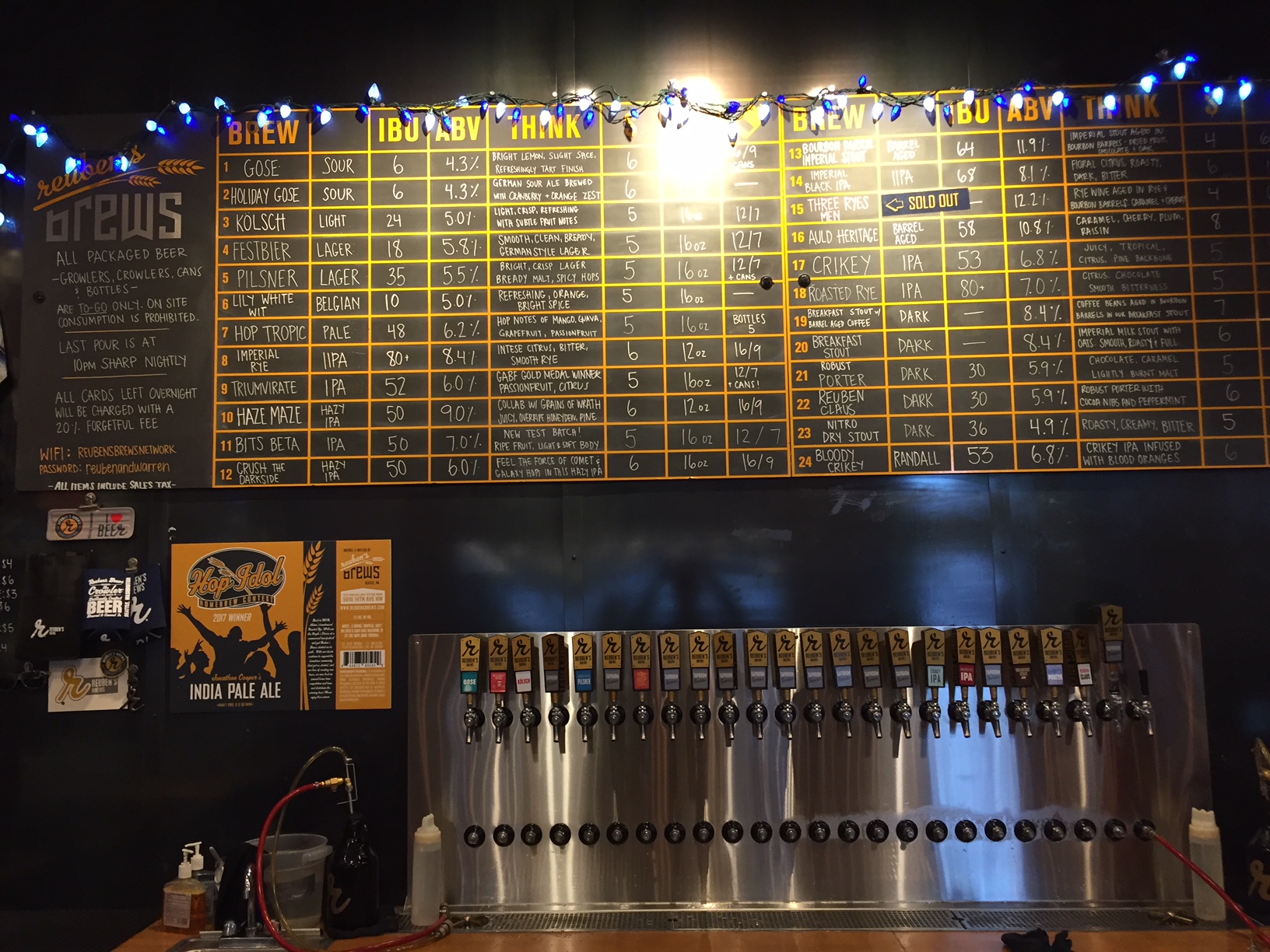 Elysian (at Elysian Fields)
Just before hopping on our train, we popped into Elysian Fields, which is around the corner from the station and just across the street from the Seahawks stadium*. To be honest, we were pretty beered-out by then. We needed dinner before the trip and had a perfunctory two beers. Patrick had the pilsner, as you do in Seattle, and I had an overly complicated New England black IPA with berries and vanilla. There was a holiday party going on but no sports, which meant the hanger-like building was otherwise quiet. It's a weird space anyway, as all the restaurants near the stadium are. They're built to handle enormous rushes on game day but are ghostly otherwise. I've been to that location before and can't say it looked much different from the pre-ABI days. Except for one thing: one of the beers on the menu was a collaboration with Wicked Weed, another of the baby-Buds.
*A corporation can slap their name on a stadium, but I am not compelled to use it.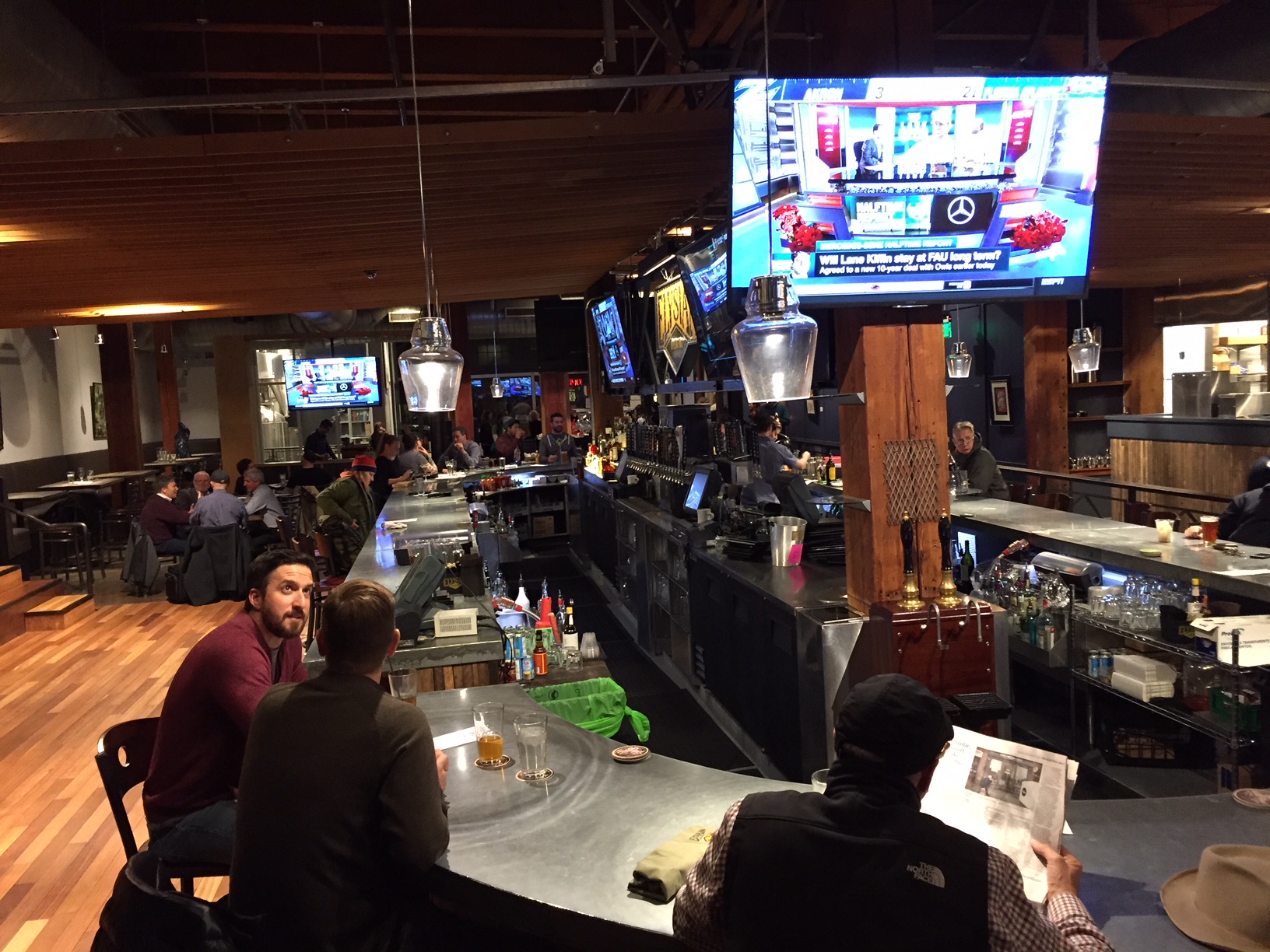 Final Comments
Until quite recently, Seattle was surprisingly far behind the nation's leading beer cities. When Redhook arrived in 1982, it signaled Seattle's arrival as one of the pioneers. Pike, Pyramid, and Elysian burnished this reputation through the 90s. But then something happened. For most cities, the late aughts and early teens brought the latest wave of breweries, the ones that have defined the modern era. (The third wave? Fourth? Fifth?--a topic for another discussion.) They have redefined New England, St Louis, Chicago, San Francisco, San Diego, and Portland. But in Seattle, this new wave didn't really arrive until two or three years ago. There were a few precursors--Reuben's and Fremont to name the most visible--but nearly all the action has happened very recently.
As a consequence, Seattle's still a bit behind the other cities I mentioned. And before you think that's just a Portlander expressing his usual parochial arrogance, let me mention that this an opinion Seattle brewers hold. You'll hear a bit of that in our Reuben's interview, but they weren't the only folks telling us that. That said, Seattle's catching up fast, and I'm betting that in a few years the dozens of new breweries there will have returned Seattle to its nation-leading status. Seattle's culture is incredibly communal and tight-knit--more so even than in Portland these days. There's a lot of information-sharing, and as certain breweries begin to set the pace, others are trying to figure out how to meet and beat their standards. That "clustering"--an economics term Patrick has used--will result in both rapid advances, and--I hope!--distinctively "Seattle" expressions in the next few years.
Seattle has one of the oldest brewing scenes in the US, but because of that period of languishing, now feels like one of the newest to catch the bug. It's a fun, exciting place to drink beer, and the myriad new breweries infuse the place with a sense of discovery. It's weird that such a mature city should feel so young and vibrant, but that's the moment the Emerald City is having. You'd do well to plan a trip in the next couple years to experience it.