When in New England
Each era is characterized by certain indelible images. Circa 1967, hippies in flower-pattern dresses, cut-off shorts, dancing in mud. Circa 1992, skinny kids slouching around in flannel shirts and Converse All-Stars. And circa 2017, people in Red Sox t-shirts standing in line to buy cans of limited-release New England IPA.
About a week ago, I decided to drop into one of these scenes, feeling like a 1979 rubbernecker trying to catch a glimpse of Debbie Harry outside Studio 54. My initial plan had been to visit Trillium, a white-hot Boston brewery with a downtown (Fort Point) HQ. Some unpleasantness intervened (hey, nice Virginia-plated rental; shame if anyone towed it) and we didn't make it. Instead we went to merely red-hot Bissell Brothers following a loop through Maine. (Were it in downtown Boston rather than outer Portland, it would also be white hot.)
What follows is a simple tour of things as I found them, mostly photographic. The idea of standing in line for beer is bizarre to me. It's especially bizarre for beers one can readily find on tap nearby. After this visit, Sally and I stopped into Salvage Barbecue near the brewery, where we found their flagship The Substance, which sold out in minutes at the brewery, on tap. In Boston, you can find Trillium pouring near the brewery at the Boston Greenway.
I polled my New England inlaws about this, and their theory had to do with status. I pass this along as one possible reason for this phenomenon--though it's one New Englanders may not find flattering. My in-laws are New England born and bred and have lived in the Boston area for decades, though, so I trust their judgment more than my own. They said owning rare things in the status-conscious city was a big deal. One offered an example about some particular silver bracelet that's wildly popular right now as an analogue to the rare-beer thing. Whatever the reason, it's a real deal. There are tons and tons of superb IPAs to be found in the region, but only a few breweries command the kind of lines we saw.
I will also add that, to their credit, everything about the Bissell Brothers struck me as transparent, authentic, and good-hearted. They have original loose-leaf recipes lacquered onto the walls of the men's room, which is the opposite of secretive. The line was perhaps 150 feet long when we arrived, and we had our four-pack within 20 minutes. They seem to genuinely want to serve their customers, and I suppose it's not their fault they've become this crazy status symbol. So, anyway, here's what it's like to visit the Bissell Brothers on any given Saturday.
Yes, the line is incredibly long, and yes, people keep emerging with stacks of beer. Don't panic. Worst case is you wait for a relatively short time before learning all the beer is gone.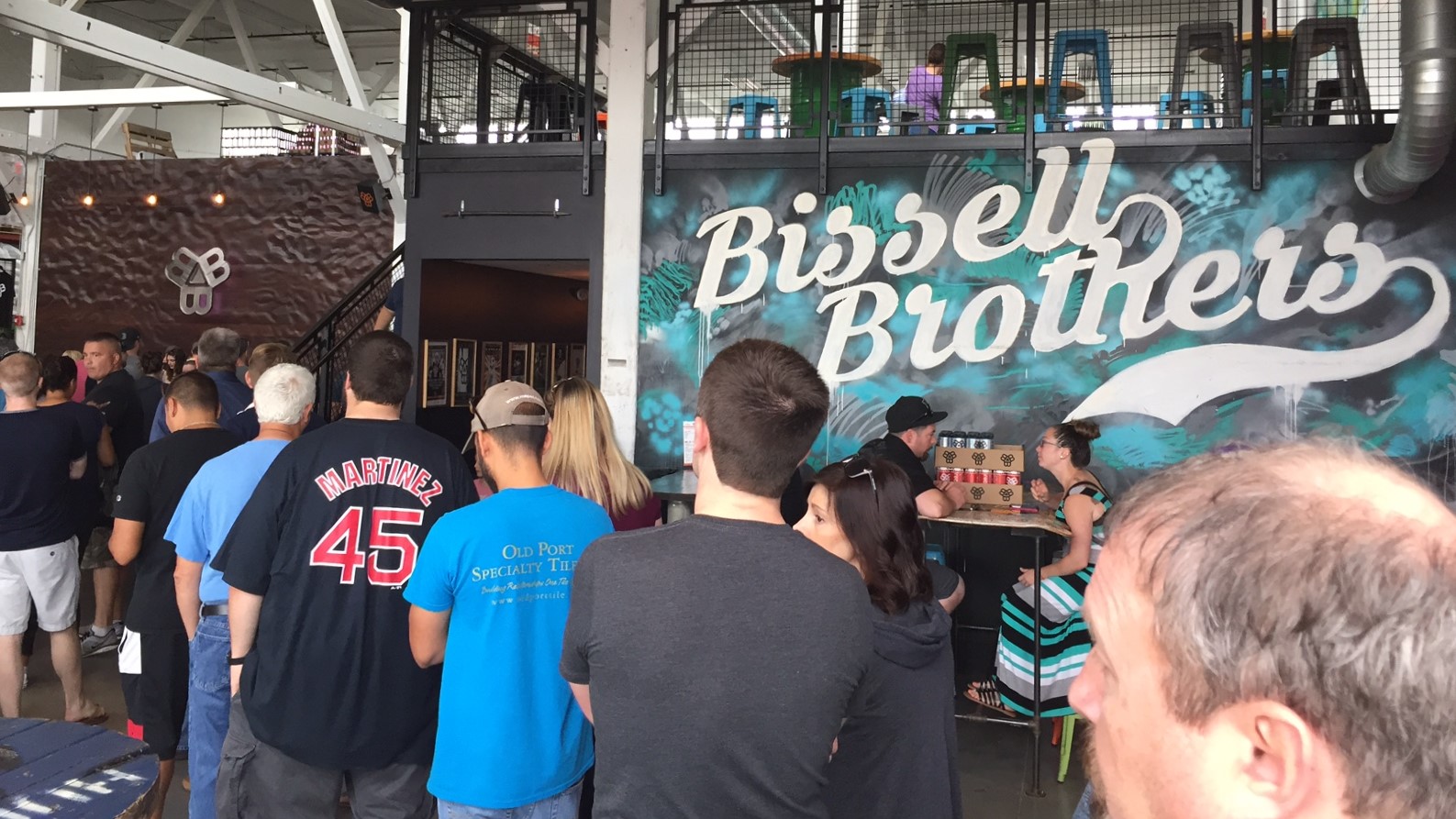 The brewery announces which beers will be available well in advance of the date, and they put limits on the amount customers may purchase. People go in as groups to maximize the beer they can cart out. You'll note that the limits on beer types are higher for the more popular types. Again, speaking to the good-heartedness of the brewery, the moment The Substance sold out, someone came and informed people in line, giving us real-time updates on how many of Reciprocal remained. The two beers on offer were also priced differently. This may be due to the beers themselves. The Substance Ale is 6.6% and Reciprocal is 7.3%--and they probably have different amounts of hops. Or . . . ?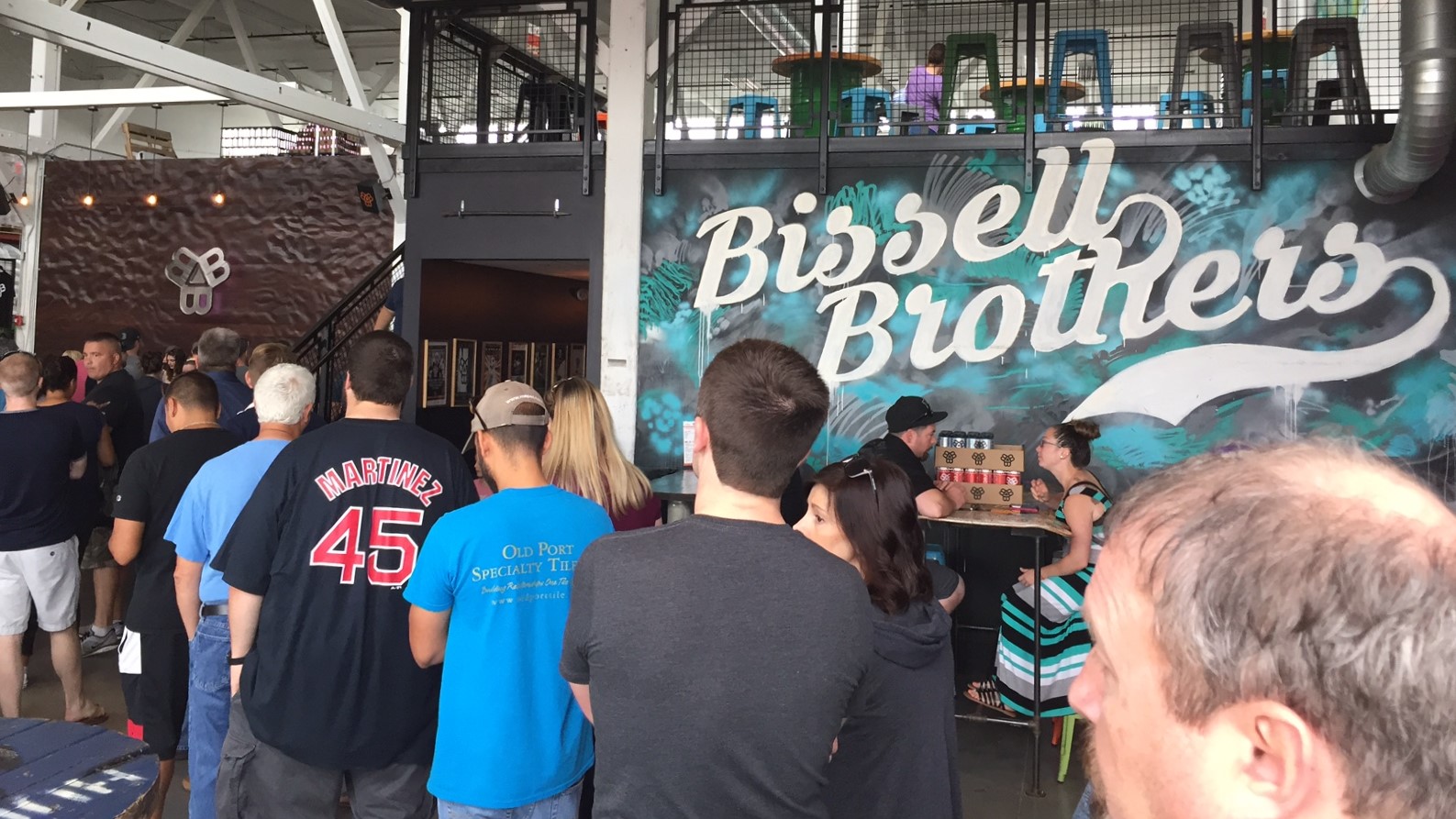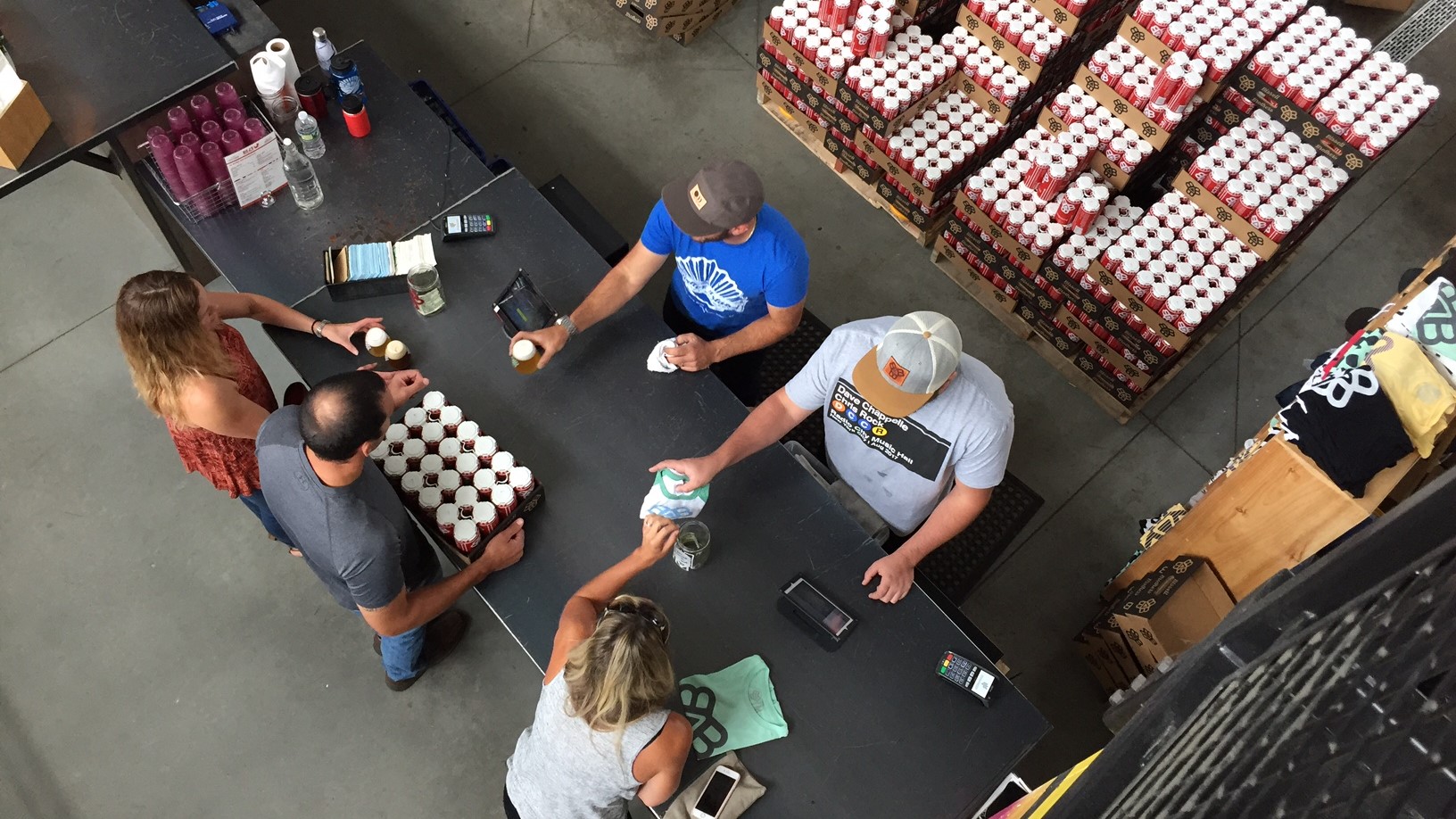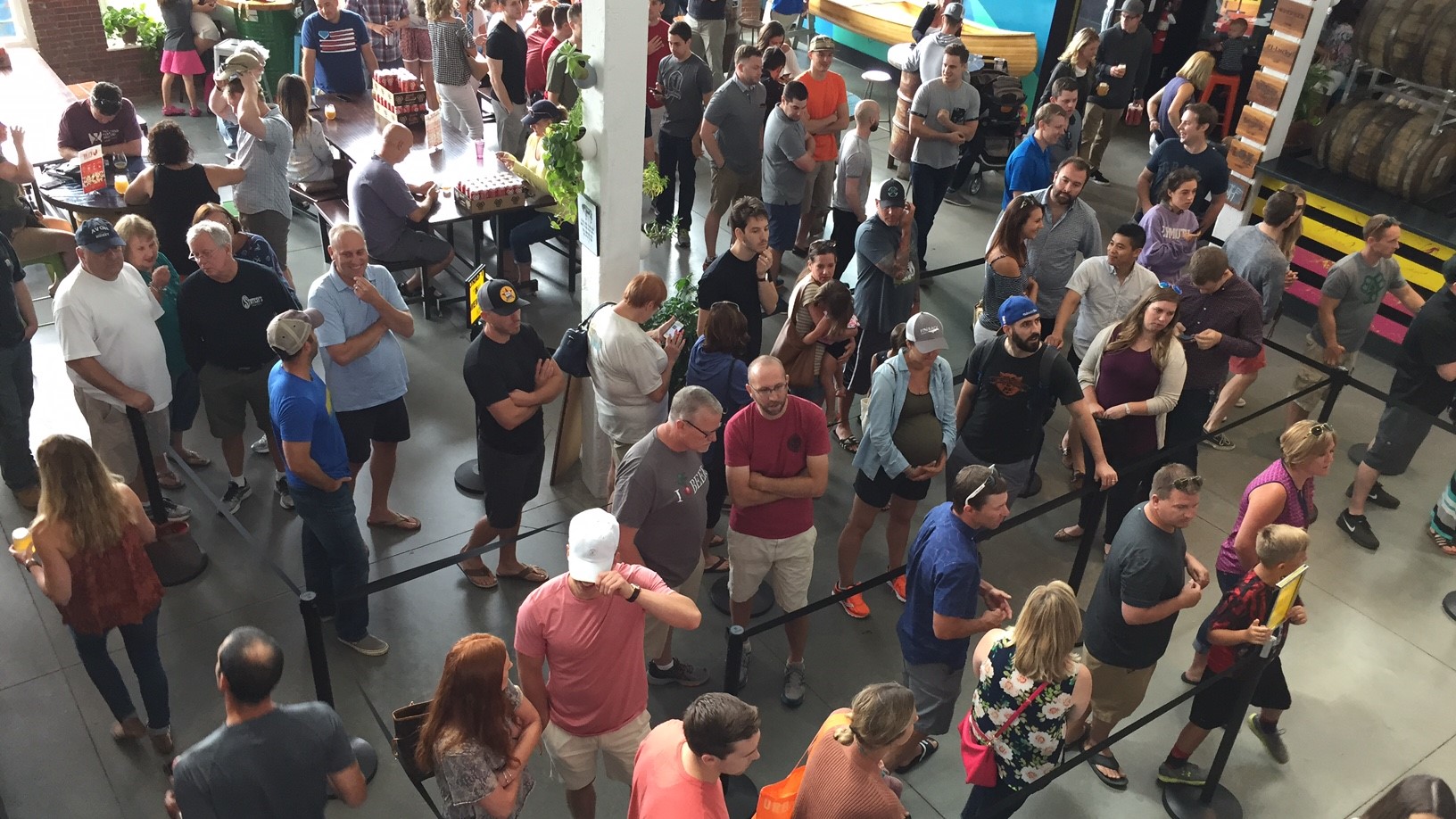 The lines are efficient and there's a communal aspect to the proceedings which is itself part of the allure.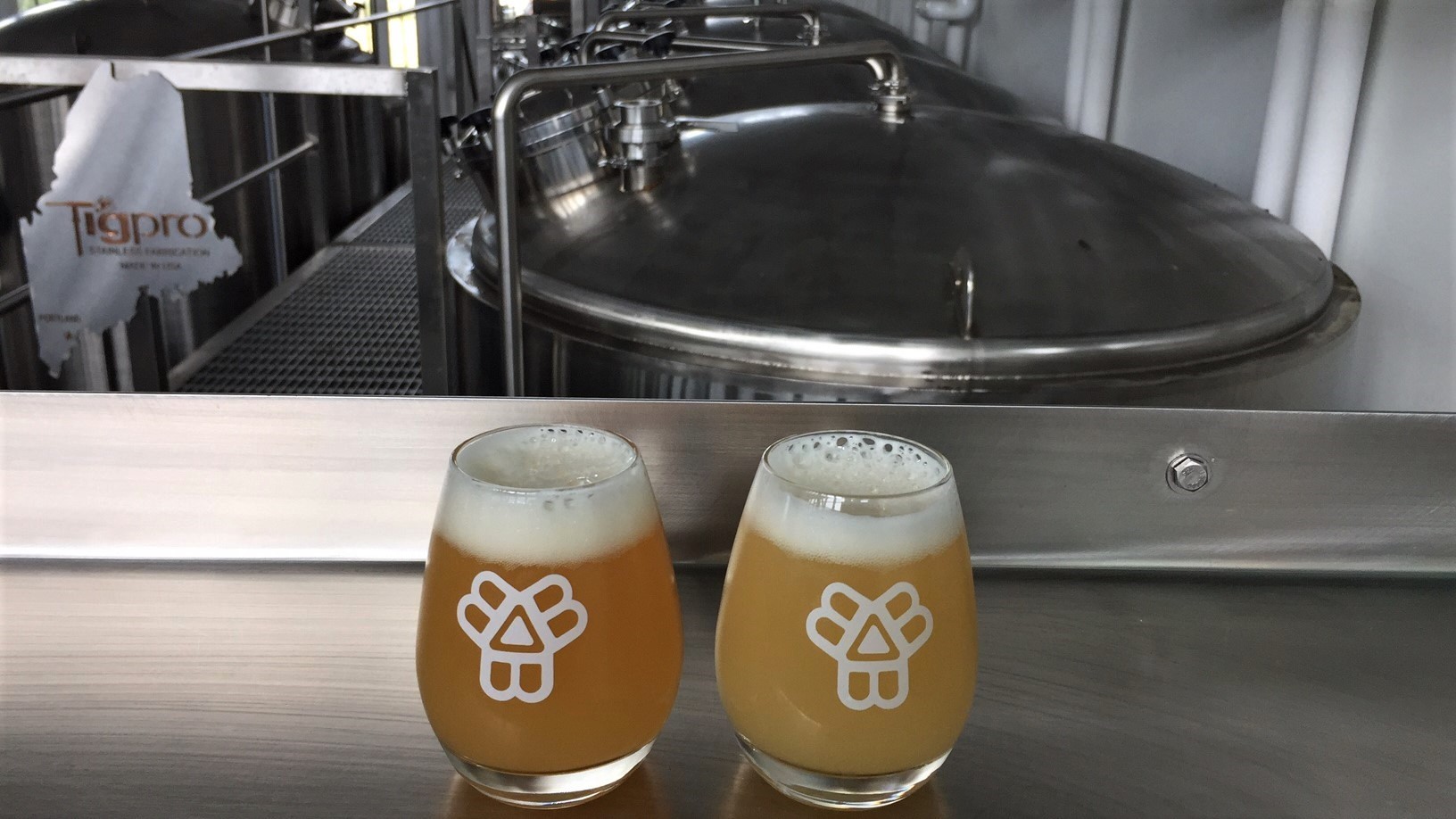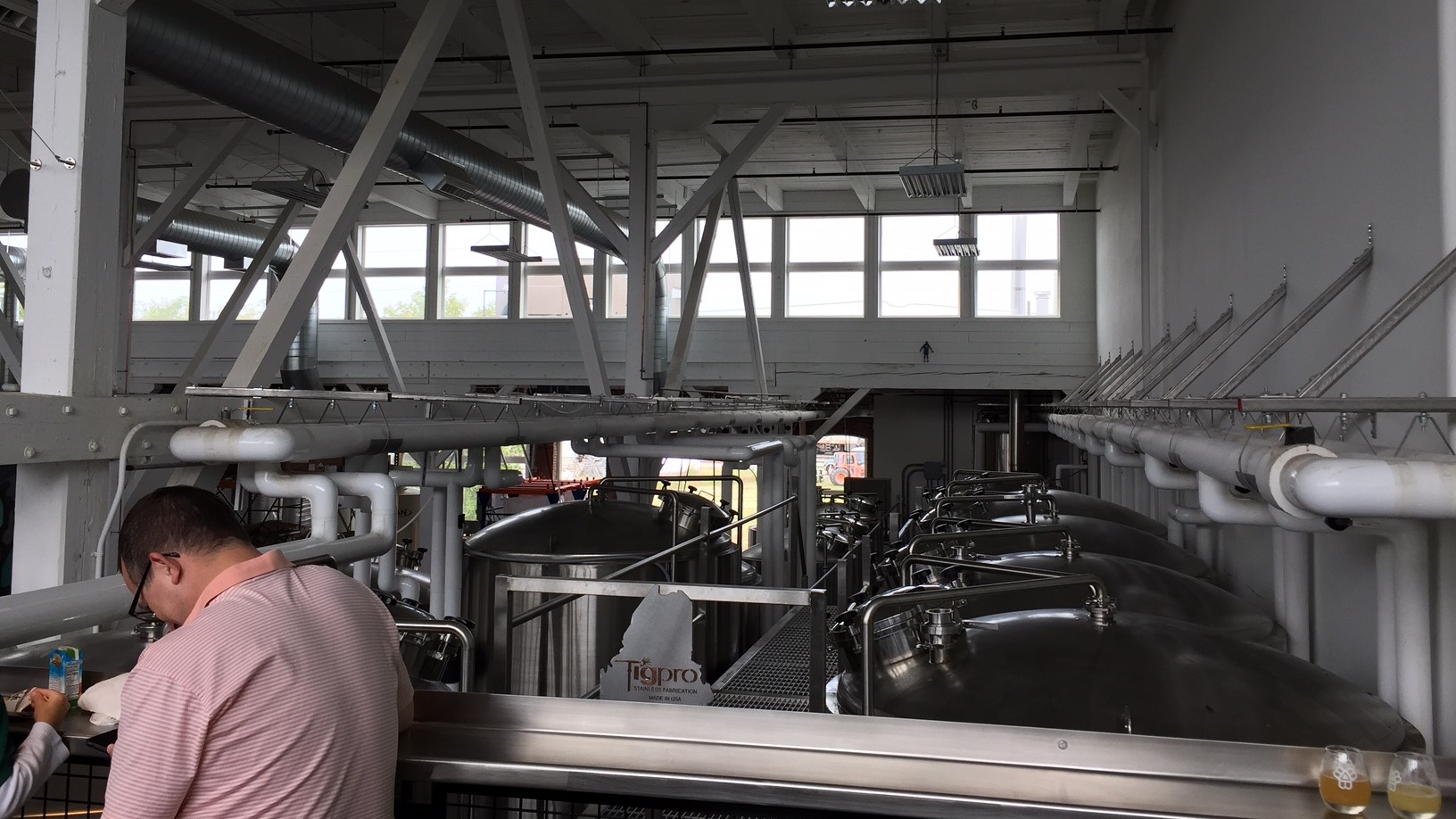 Sales of cans started at 11 am on Saturday, but weirdly taproom sales were delayed until noon. Sally and I got lucky (?) in that we thought everything opened at noon and therefore arrived at 11:45. By the time we got to the front of the line it was after 12, and we were able to pick up these cute little 5-ouners of Baby Genius (session IPA) and Engram (a wheat ale). I found the Baby Genius to be slightly hollow, with not enough body to support the incredibly aromatic hop load. The Engram was delightful. Imagine a fusion of Widmer Hefe and a Breakside IPA.
The brewery building is large, and I was surprised to see all the space still available. There's plenty of room for bigger and/or more tanks. Nobody was brewing when we visited--no doubt those tanks were all full. Given the size of the building and the incredible profit margin of these beers, there is surely a lot of runway left for growth. Perhaps the brewery is still paying down debt before taking on more. Whatever the case, the physical space is not what's limiting sales.
Okay, final picture. Homebrewers, enjoy--here's a recipe for their Rye IPA, Lux (my favorite Bissell Brothers beer of the four or five I've tasted):